Cotswold Lavander Rose & Cotswold Minnie Moppet
The donkeys gave rides to our grandchildren on Waitangi weekend 2016.
Left: Lavender Rose took part in a live nativity at St Joseph's Catholic Church, 2015. Photo: Cara McCall.
Above: The donkeys about to leave. Rose refused to walk out behind the tree as the rubber matting underneath was unfamiliar to her and dark. Donkeys are very cautious about walking on strange surfaces. We led them away through the crowd instead. They gave rides and were petted in a paddock over the road before the evening began.
---
Moppet and Rose visited the school for lessons on ANZAC in 2015.
The day was wet but the donkeys were in the hall to bring the story of Simpson and his donkey alive.
You can download a pdf with the story about the donkeys visit HERE
---
Cotswold Minnie Moppet giving rides at a local nursery.
Rose surrounded by children at a local nursery.
Cotswold Lavender Rose and Cotswold Minnie Moppet ready for a walk.
We usually go up the hill and have a coffee stop for 20 minutes on a nice patch of grass.
---
Moppet just loves being brushed.
Moppet attended 'Christmas On The Bay' in 2011 when children sang Little Donkey and a neighbour's little girl rode her.
Both donkeys give rides to children.
---
Moppet enjoying time out on grass.
Moppet in our wonderful Cocksfoot grass patch.
Breakfast in very cold sleety weather. Moppet often tucks her ears in.
---
Cotswold Minnie Moppet's arrival, September 30, 2009. Rose was a big two year old and had not seen her little mother since she was weaned at a few months old. This touching photo was taken at their first meeting since. We went up to collect Cotswold Minnie Moppet (left) and it was obvious that they remembered each other. They have become inseparable.
People often think that Rose is the mother because she has grown much bigger than her mother. They each have two covers, a padded one to protect them from icy winter rains and a lighter cover for the summer. In the spring when they are losing their winter coats they often need covering when a blast from the south brings really cold wet and windy weather.
Donkeys lack the oils horses have in their coats and need covering in wet weather unless a good shed is provided for them to get out of the rain. They have Greedy Steed hay nets that ensure they eat slowly.
---
Lavender Rose at her first show at Waimate show 22 November, 2008 in the grand parade after winning the foal or yearling class and a 2nd in the novice donkey any age. She looked gorgeous in her fluffy foal coat. The day before I had washed, dried and covered her so she would stay clean.
We took Rose to the Waimate show again in 2010 and she was Champion Breed Donkey, but it was a nasty cold wet day so we didn't take any photos.
Thoughtless people throw out thir beer cans, snack wrappings and what have you.
Cotswold Lavender Rose with plastic bags after a morning walk when we cleaned rubbish from the roadside. After Moppet arrived we still picked it up.
---
Cotswold Lavender Rose waiting to go into the Anglican Church in Timaru on Palm Sunday
Rose stood up the front after walking past a band with drums playing in the isle. The Vicar read a story to the children.
We walked out and around the church with a palms waving and a guitar to which the people sang a hymn.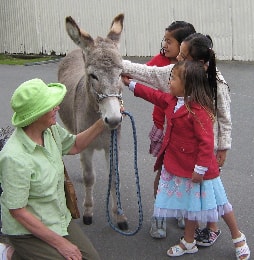 Some children came from another service to see Rose.
---
Lavender Rose was Champion Breed Donkey & Champion Performance Donkey so won the Supreme Award and the coveted Tartan Sash.
We made the effort to attend the Mackenzie Royal at Easter, 2010.
Donkeys need their feet trimmed every six to eight weeks.
Rose was just a weanling here.
Shortly after she arrived on May 28, 2008 we had a snow storm.
---
Moppet and Rose when she was a foal on the hill at Cotswold Stud, Motukarara, Christchurch.
Cotswold Lavender Rose and Cotswold Minnie Moppet are English/Irish donkeys bred by Diana & John Humphries at Cotswold Stud Lavender Rose's sire was Berrabri Danny and her dam is Cotswold Mini Moppet. Lavender Rose is Reg. JY07/1825/2 D&MSNZ and was foaled November 28, 2007. Cotswold Mini Moppet is by Taranganba McGinty and her dam was Chrispin Grove Little Crissy. Minnie Moppet's is Reg. JY00/1454/3 and she was foaled on September 21, 2000
An amazing coincidence: Rose was born on November 28, the day before my sister Ruth's anniversary (November 29) and delivered by Diana on May 28, the day before my Mother's anniversary (May 29).
---